Hello, hello! I hope you are all well! From my side, I take advantage of my free time… My life and professional projects came to 360° lately, I'll have to explain all this in a post soon. So I enjoy my days doing what I want! Pure pleasure.
As I have time to cook, I make recipes tests. I'm also increasingly interested in a vegan diet. However, I don't want to go too fast. I also tell you all about it. But for today, I propose a vegan curry. I had already done on the blog a chicken-based curry which was certainly good but this one is better! It's very good and much less polluted planet (don't worry, I wont turn me into account vegan activist on the blog, though.. 😄). Anyway, this curry is delicious!
I post this recipe also participating in a contest, "À vos recettes" I don't know if I have my chances, but nothing ventured nothing gained.
Beautiful day to you,
Mary ❤️
Mushrooms curry and brown rice
For 4 personnes
Vegan / Gluten Free / Vegetarian
Preparation time : 15 minutes / Cooking time : 30 minutes
---
Ingredients :
1 zucchini
1 cup frozen peas
1 large can tomato pulp
500g mushrooms Paris
1 small onion
2 tbsp curry
1 tbsp coriander
salt and pepper
olive oil
brown rice as an accompaniment
crushed almonds
fresh parsley
Chop the onion and saute in a pan with 1 tbsp olive oil. When it becomes transparent, add the zucchini into slices and sliced mushrooms. Sauté 5 minutes. Add the tomato pulp and peas. Pour the curry and coriander. Cover and simmer 15 minutes.
Cook brown rice.
Mix the curry, add a little water if the preparation thickens. Cover again and simmer 10-15 minutes.
Serve with brown rice, a few sprigs of fresh parsley (or cilantro) and crushed almonds.
---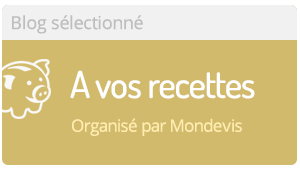 0